PSDF and PTEGP join forces to develop Punjab's tourism industry and elevate its productivity within the next two years
PSDF and Punjab Tourism for Economic Growth (PTEGP) have signed an MOU (Memorandum of Understanding) to train 10,000 individuals in the hospitality sector. Through this partnership, the skillsets of workers in Punjab's tourism industry will be developed and upgraded.
Both PTEGP and PSDF will work together to promote this partnership amongst key stakeholders in the tourism industry. PSDF will take lead in identifying the professional areas that citizens will receive trainings in and mobilize its extensive network of training service providers (TSPs) to implement them.  The partnership aims to activate three main elements needed to successfully expand Punjab's tourist economy. Which includes increasing private sector participation, improving infrastructure services, and enhancing the skillsets of tourism sector workers.
PTEGP will finance the trainings and support in raising awareness on the project's goals amongst relevant parties needed to safeguard its success. To ensure project outcomes are achieved, a project management unit (PMU) will be formed to systematically monitor the trainings.
A thriving tourism sector is essential for boosting Pakistan's economy and a well-trained workforce plays a critical role in attracting and creating an international standard customer experience for tourists visiting the country. PSDF COO (Chief Operating Officer) Ali Akbar Bosan reiterated this during the signing, "PSDF as a skills expert is in tune with the training and knowledge that is required for the industry so it can shape competent workers and they in turn can deliver quality service and performance to take Punjab's tourism economy to the next level. This is a necessary endeavor, and we are excited to partner with PTEGP to make it a reality".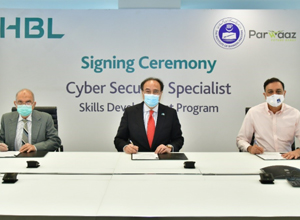 Parwaaz, HBL and IBP to train Cybersecurity specialists to secure Pakistan's financial sector
Jawad Zahoor Khan, Country Head Parwaaz and CEO- PSDF (sitting on the right), Muhammad Aurangzeb, President & CEO - HBL (sitting in the center) and Mansur-Ur-Rehman Khan,...