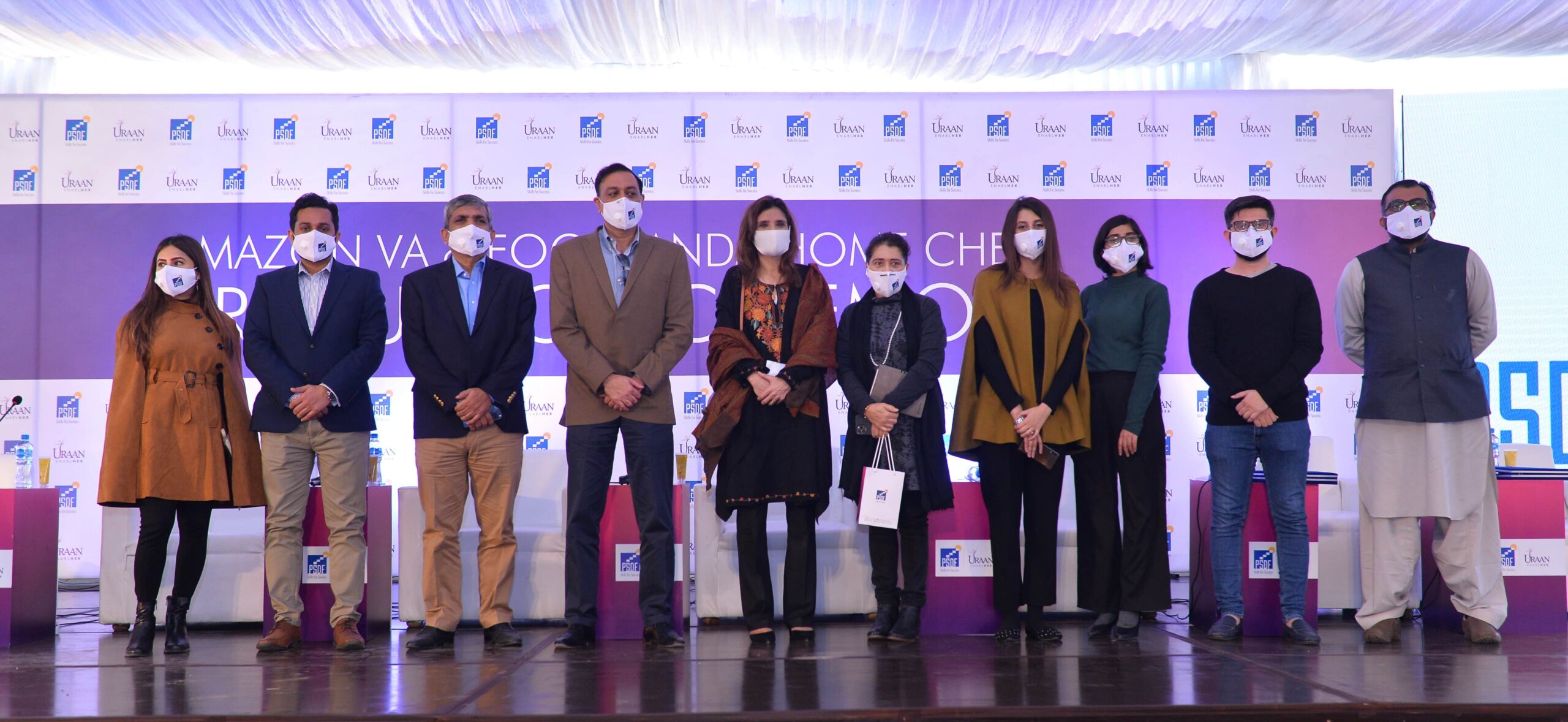 Lahore, 19th Dec, 2020: PSDF women graduates from across the province joined in person and online celebrating their achievements in taking the step towards self-employment in the digital age. At the ceremony 100 women graduated from PSDF's online courses, designed to empower women for the digital economy. Present as chief guests at the ceremony was Andleeb Abbas, Federal Parliamentary Secretary for Foreign Affairs and Member of National Assembly (MNA).
A study conducted by UNWomen highlights the strong adverse impact of the pandemic on the livelihoods of vulnerable groups like women and recommends financial empowerment and increased labour force participation for women in Pakistan to mitigate the crisis. In light of the multi-faceted challenges brought forward by the pandemic (including loss of jobs and income) PSDF launched specially designed online courses to increase income generation opportunities for women.
Jawad Khan, CEO PSDF spoke of women's essential membership of the work force. "The enormous province-wide response that the pilots received combined with the sustained economic success as a result of the trainings are proof points that women can contribute massively to household incomes when given the right opportunities. In that endeavour, PSDF plays a front-line role, having graduated over 178,000+ women in the past 10 years". He also reiterated PSDFs commitment to continually grow women trainings portfolio at PSDF in digital, brick and hybrid models across multiple sectors.
In July 2020, PSDF partnered with Extreme Commerce LLC to launch an online training program for women to acquire skills as Amazon Virtual Assistants. (The 'Virtual Assistant' is an independent contractor who provides administrative services to clients while operating outside of the client's office). The program will enable women to earn and be self-employed, while working remotely, during the current pandemic.
PSDF also launched a partnership with Foodpanda (largest online food delivery platform/service) to enable female home chefs to sell their products through the Foodpanda platform and envisages the training of women articulate in cooking to become empowered entrepreneurs.
These programs fall under PSDF's URAAN brand, representing the moment of lift, of flight for women, unencumbered by burdens and roadblocks, empowering them with the skills training needed to sustain themselves, their families, and their dreams.
About PSDF – A Success Story of Public-Private Partnerships:
PSDF is the largest skills development fund in Pakistan for the youth. It plays a leadership role in skills training by collaborating with over 500+training partners, including 200+ businesses across 10 sectors. PSDF delivers training in 2,400+ locations and 40% of its beneficiaries are women. PSDF also leads the National Accelerator on Closing the Skills Gap in Pakistan in partnership with the World Economic Forum.
PSDF – Media Enquiries
Communications Team:
Punjab Skills Development Fund (PSDF),
Contact: +92-42-35752408-10
E-mail: communications@psdf.org.pk

Follow PSDF on Social Media
Website: www.psdf.org.pk
LinkedIn: Punjab Skills Development Fund (PSDF)
Facebook:/punjabskillsdevelopmentfund
Twitter: @PSDF_official
YouTube: /punjabskillsdevelopmentfund