September, 2017 (Lahore): Continuing with its effort to introduce customised programs to boost employment opportunities for women, Punjab Skills Development Fund (PSDF) recently launched its first dedicated Program for women residing in urban areas across selected districts of Punjab.
To kick-off the Program activities, PSDF hosted a contract signing ceremony on Wednesday, September 06, 2017; to formalize its relationship with the twenty-two qualifying Training Service Providers (TSPs). The Program is titled, "Women Focused Employment Driven Training".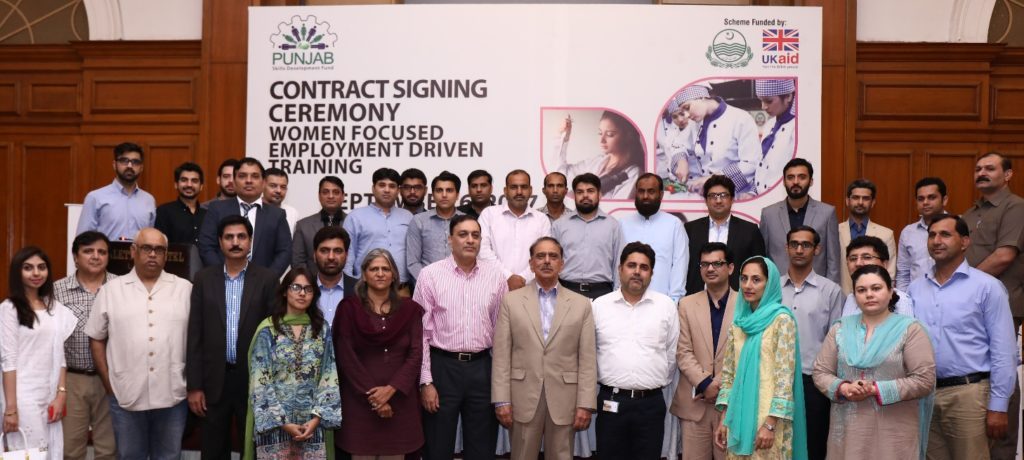 The Minister for Industries, Commerce & Investment, Mr. Sheikh Alauddin who was present at the ceremony as Chief Guest, said: "I feel proud to chair this ceremony because PSDF has taken an initiative to not just train our poor and vulnerable sisters and daughters in technical and vocational skills but also link them with sustainable employment opportunities. A lot of programs designed for women in urban areas stop at training only without formalizing the employment outcomes."
While addressing the TSPs, he further added: "I want to congratulate all the participating training providers who have made a commitment to employ the successful trainees under this Program. The TSPs must not consider this as a training contract but take pride in the fact that you are making a direct contribution to the national cause."
The specific objective of the program is to train women in skills for different sectors of the economy (including Service, Education, Textile, Health, Hospitality, Information & Communication, Leather and Sports) for increasing their access to jobs and enhancing income earning opportunities. Total enrolment target of women under the scheme for a year is over 10,000. Women of age 18 years & above and belonging to any district of Punjab will be able to participate in this program. Trainees will be provided with a monthly stipend of Rs.1500 along with uniforms & bags. Classes under the program will commence from October 2017 and continue till September 2018.
While speaking at the occasion, CEO PSDF, Mr. Jawad Khan said: "PSDF continuously pushes for high quality trainings and rewards quality training providers with a competitive return on investment. With the launch of this program, we hope to position PSDF as financier of quality employment driven training programs, with special focus on engaging more women and mainstreaming them into sustainable employment opportunities."
About PSDF:
Punjab Skills Development Fund (PSDF) is a section 42 not-for-profit company established in 2010 under the Companies Ordinance 1984 by the Government of the Punjab in partnership with the UK's Department for International Development (DFID, UK). The World Bank is also providing funds to the Punjab Government for the trainings to be funded by PSDF. PSDF aims to provide quality skills and vocational training opportunities to the poor and vulnerable populations of all the 36 districts of Punjab in order to improve livelihood prospects for them. Since its establishment in 2011, PSDF has trained 200,000 youth in over 200 trades and it works with over 250 private & public sector training providers. Over the next 5 years, we will be training over 400,000 youth across Punjab that will be employed in Pakistan and abroad.
Communications Team
Punjab Skills Development Fund (PSDF)
Contact: +92-42-35752408-10
E-mail: communications@psdf.org.pk