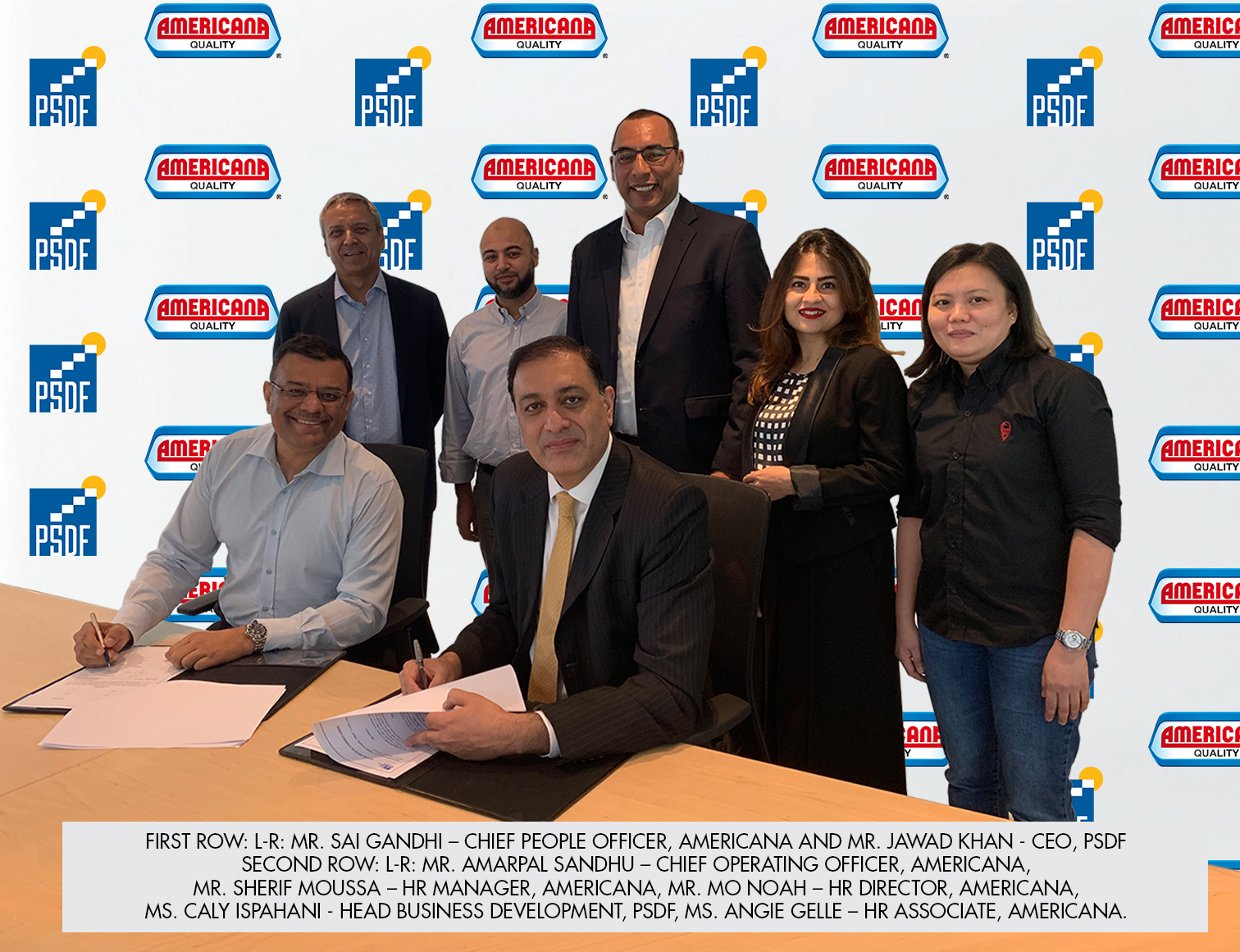 Lahore, Pakistan – One of the Middle East's largest food manufacturing and distributing company leading restaurant operators, Americana Group, has signed a memorandum of understanding (MoU) with Punjab Skills Development Fund (PSDF) with the aim of hiring trained workforce from Punjab for their Quick Service Restaurants (QSR) business division, that operates close to 1,900 restaurants in the Region. The agreement was signed between Mr. Sai Gandhi, Chief Human Resources Officer, Americana Restaurant Division and Mr. Jawad Khan, Chief Executive Officer, PSDF at the Americana Group Head Office, Sharjah, UAE.
The two parties are committed to creating a successful long-term partnership and give the youth from Punjab a chance to build their careers with one of the leading organizations in the Middle East. In accordance with the agreement MoU, PSDF will fund the training of the workforce, while The Americana Group will employ them the eligible candidates across their QSRs in UAE and KSA.
Mr. Sai Gandhi, Chief Human Resources Officer, Americana Restaurants Division said, "Our partnership with the Punjab Skills Development Fund is to attract young talent and grow our pipeline for our growing restaurant business."
Mr. Jawad Khan, CEO, PSDF said, "PSDF is playing a leading role in partnering with the best organizations in the Middle East and helping them meet their skilled workforce needs from Pakistan. After the success achieved with Atlantis The Palm and Rotana Groups in the hospitality sector, PSDF is very proud to partner with Americana and meet their skills needs in the QSR space. We look forward to growing our mandate with Americana in other areas of their business."
About Americana:
Americana is one of the largest and most successful groups in the Middle East & North Africa (MENA), with capabilities spanning manufacturing, distribution and restaurant operations. Our much-loved brands are present in more than 20 markets globally. For over 50 years, Americana has managed a wide portfolio of well-respected brands across its two Divisions: Restaurants and Food, creating direct jobs for almost 60,000 people, today.
A regional pioneer, Americana introduced the concept of Quick Service Restaurants (QSRs) to the Region with its first restaurant of the kind, Wimpy, in Kuwait in 1970. Today, the Restaurants Division operates 1,900 restaurants, with over 40,000 employees, in 13 markets. Americana is the franchisee of some of the world's most prominent brands in fast food and casual dining; including KFC, Pizza Hut, Hardee's, Costa Coffee, Krispy Kreme and TGI Friday's; to name a few.
About PSDF – A Success Story of Public-Private Partnerships:
Punjab Skills Development Fund (PSDF) is the largest skills development fund in Pakistan. PSDF was established in 2010 as a not-for-profit company set up under the Companies Ordinance 1984 by the Government of Punjab (GoPb) in collaboration with UK's Department for International Development (DFID). PSDF also exclusively manages the skills training funding of the World Bank.
PSDF's purpose is to shape the future and well-being of our poor and vulnerable youth by giving them access to skills training of the highest standard so they can find sustainable employment and income-generating opportunities in Pakistan and beyond.
PSDF started its operations in the 4 poorest districts of Punjab. Since 2016, The geographical remit has expanded to the entire 36 districts of Punjab. PSDF has trained almost 300,000 underprivileged youth across Punjab, which includes 180,000+ male and 110,000+ female graduates. These graduates have been trained in approximately 250 demand-driven and market relevant trades across 10 sectors.
PSDF has played a leadership role in creating a skills training market with 90% training partners in the private sector. With 400 training partners that deliver training on behalf of PSDF, out of which over 150 are businesses across the 10 sectors. PSDF has adopted an output-based funding mechanism where it funds contract-to-completion outputs as well as completion-to-income generation outcomes.
PSDF – Media Enquiries
Communications Team:
Punjab Skills Development Fund (PSDF),
Contact: +92-42-35752408-10
E-mail: communications@psdf.org.pk

Follow PSDF on Social Media
Website: www.psdf.org.pk
LinkedIn: Punjab Skills Development Fund (PSDF)
Facebook:/punjabskillsdevelopmentfund
Twitter: @PSDF_official
YouTube: /punjabskillsdevelopmentfund